Hearty and rich with a kick of heat, chili is the perfect comfort food for cold nights in the backcountry. The meaty textures re-hydrate particularly well and the spicy flavours help to wake up the senses after a long active day in the outdoors.
For all these reasons, chili is a staple in freeze dried and dehydrated food ranges.
But with chili being exceptionally straightforward to make, it is far more rewarding to make your own DIY dehydrated version.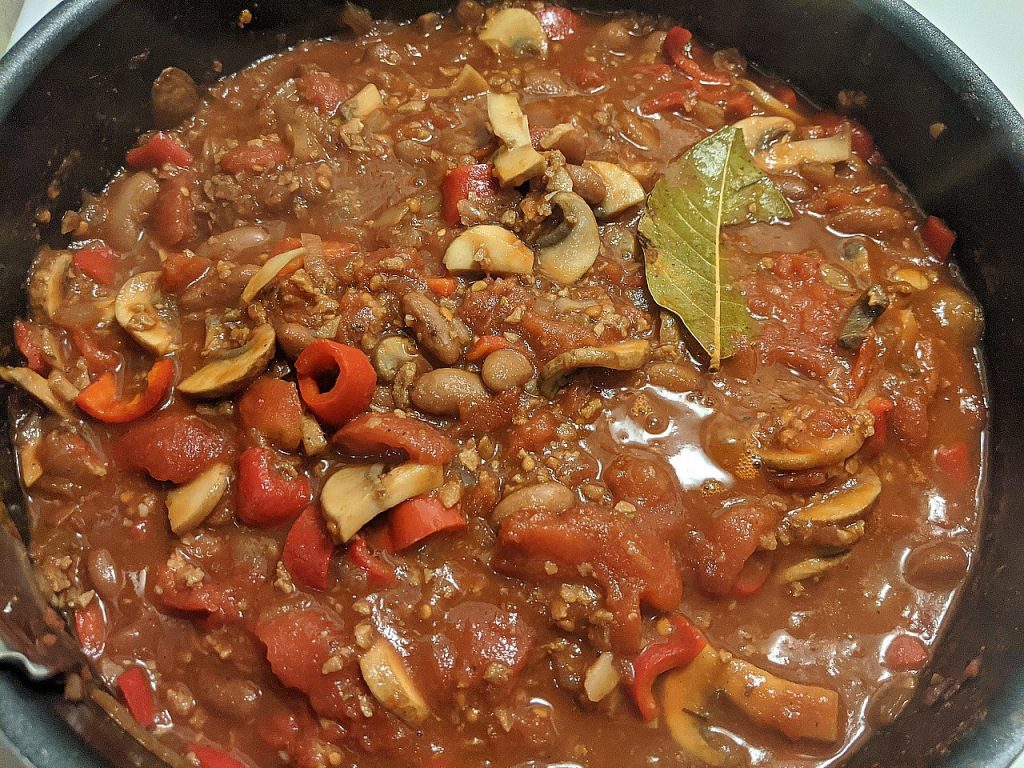 One of those meals that only seems to improve the longer you cook it, chili is an ideal 'first time' dehydration project. You can't really go wrong!
Featuring mushrooms, beans, TVP and tomatoes, this dehydrated chili sin carne recipe is easy to cook, dehydrates like a charm and is also completely vegan.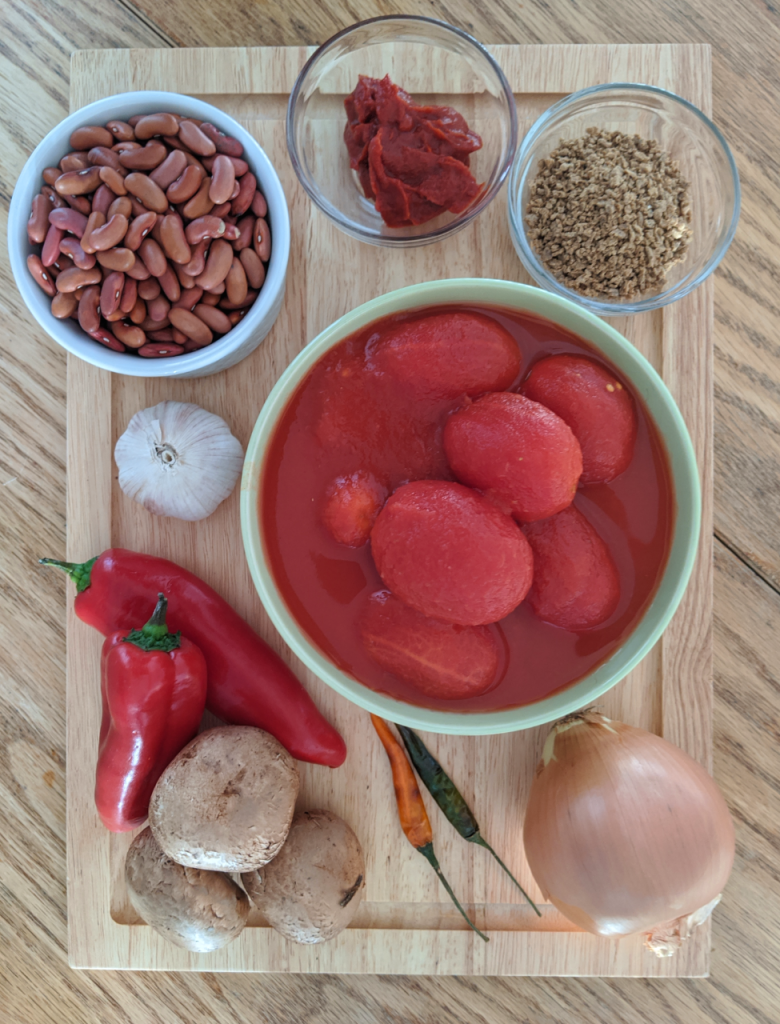 Where's the sin?
I am a strong believer in calling things they way they are, especially in the food realm.
Traditionally, chili con carne is a spicy stew incorporating meat (usually beef) and chili peppers. Tomatoes and beans are also common ingredients. The 'con carne' part of the name literally translates to 'with meat' in Spanish.
This recipe also creates a spicy stew, but contains no 'carne.' The meat is replaced with Textured Vegetable Protein (TVP) and mushrooms, making it a 'chili sin carne' (or 'chili without meat' when translated).
It still has all the meatiness you'd expect in texture and taste, but it is completely meat free.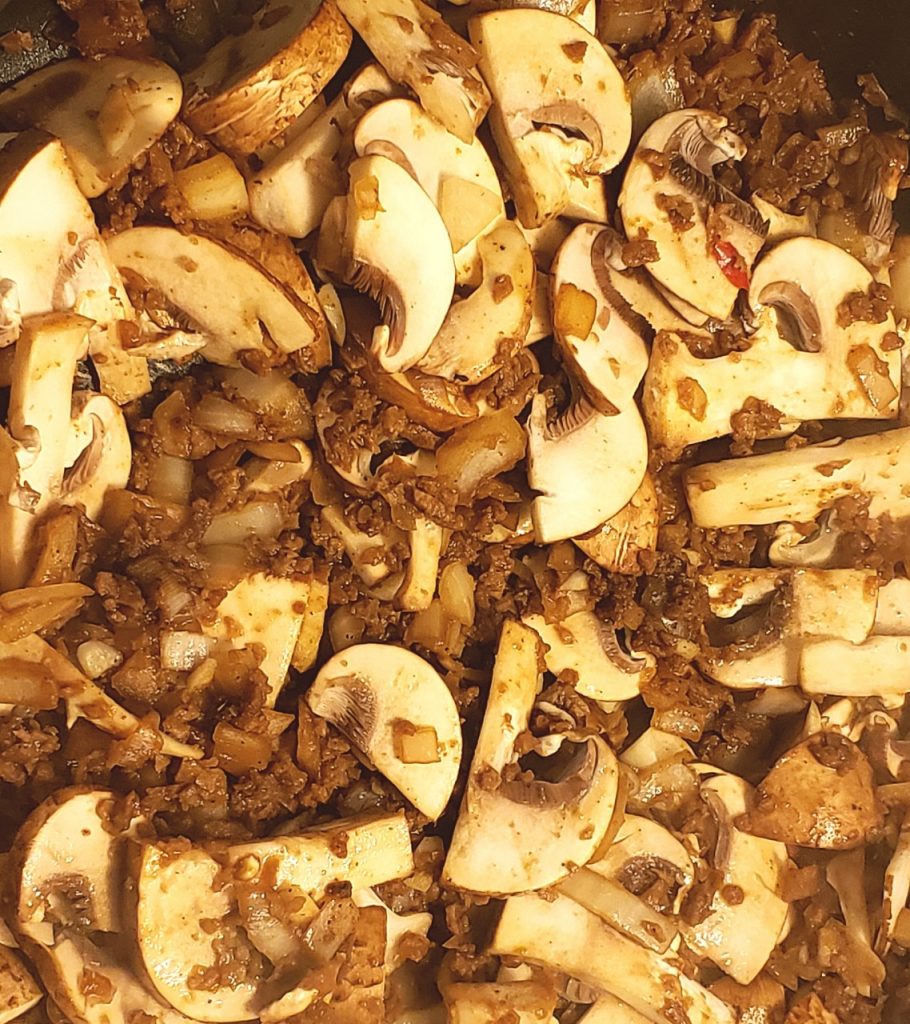 The what and why of Textured Vegetable Protein (TVP)
Textured Vegetable Protein is an essential delivery component of all of the rich, meaty flavours you'd expect to find in a chili. But some readers may not be familiar with it.
TVP is a byproduct of soybean oil extraction and is usually sold in dehydrated flake form. When dry, it looks a little strange and doesn't taste of much.
But when cooked, it takes on the taste of whatever you add to it. In this recipe, TVP soaks up the tangy tomato sauce, meatiness of the mushrooms and the kick of the chili peppers.
While I may not follow a vegan or even vegetarian diet, I still like and use TVP to replace meat in meals. With the texture of TVP being so close to ground beef, I never feel like I'm missing anything. TVP is typically cheaper than meat too, so it's a money saver as well.
A good source of protein, iron and fiber, TVP is nutritious as well as tasty. It is usually found in the 'natural foods' or bulk section of grocery stores.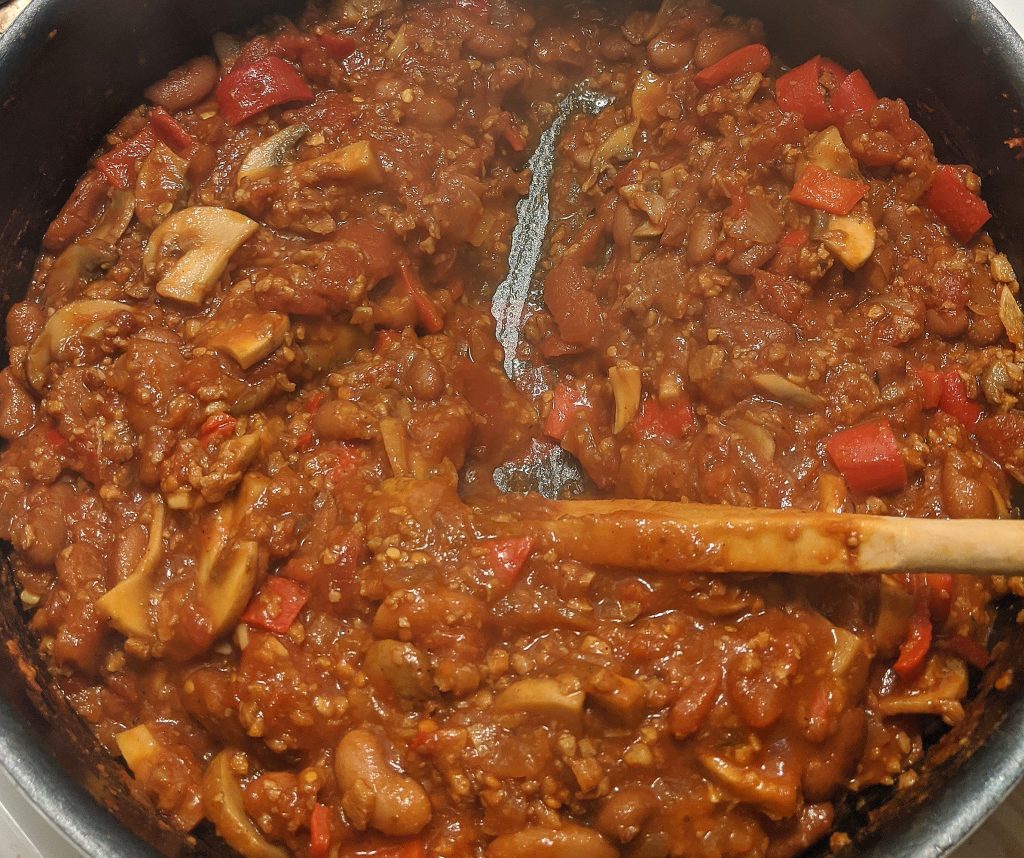 If this is your first time at cooking or even eating chile you might not know when it is ready. I find that a good indicator or thickess is what when you draw the wooden spoon at the bottom you can see the pot for about half a second or even a bit longer before the sauce fills up the space.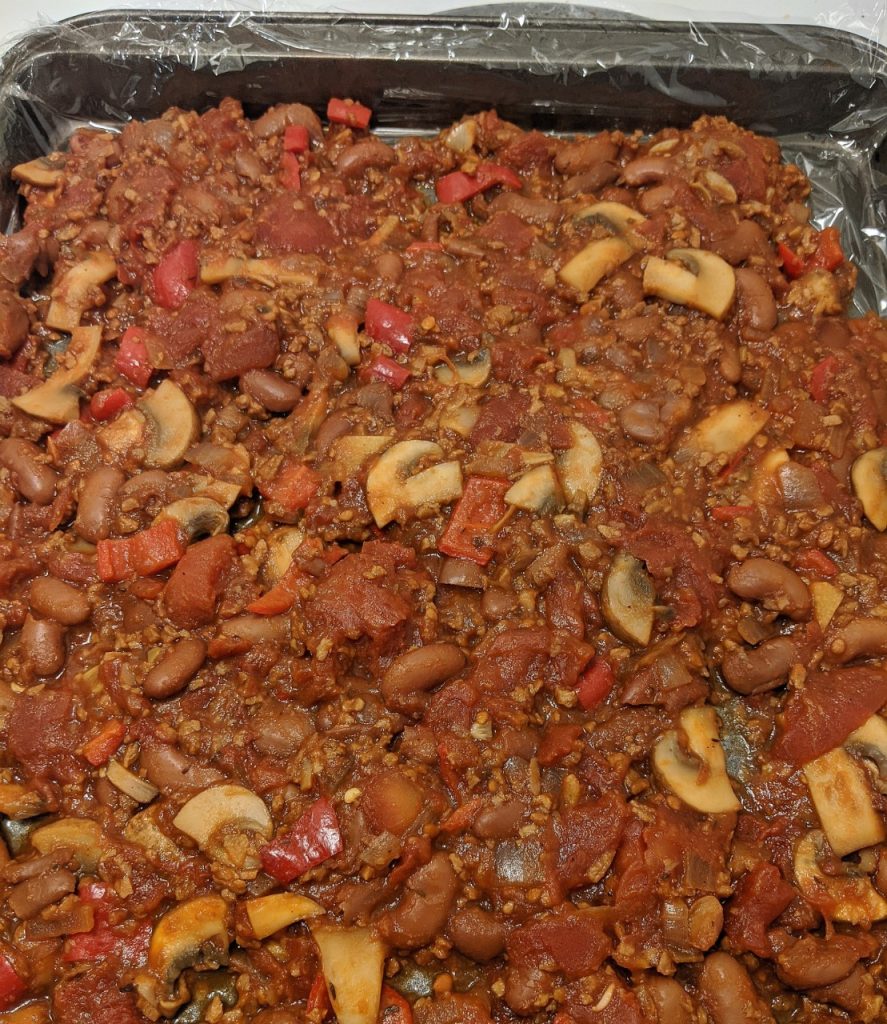 When dehydrating the chili sin carne you will want to keep it as thin as possible on a baking tray or dehydrator flat tray. This will be about 1 cm or the thickness of the beans. I like to use a baking tray (since i don't have flat tray for my dehydrator) to start the process and dehydrate it in the oven at low temperature (as low at you can make make it go) for a 3 to 4 hours or till the chili is dry enough to put on a dehydrator mesh tray. You can than finish it off ( about an other 4 to 5 hours). The finish texture will be dry but it might also have some leathery bits where the chunks of tomatoes are. Just make sure there is no wet bits in the middle of those leathery bits.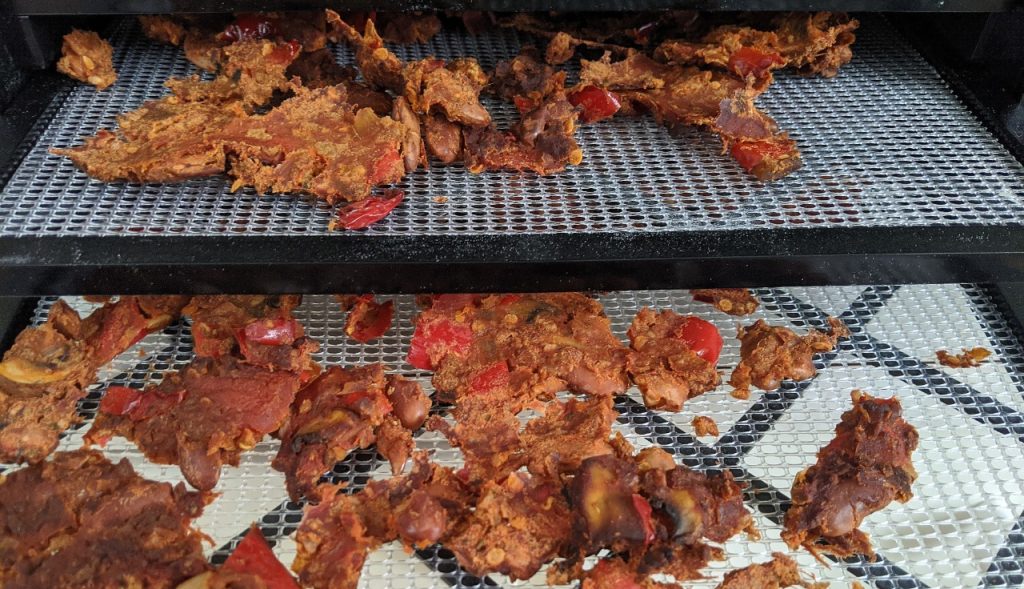 Cooking chili sin carne in the backcountry
Store the backcountry chili sin carne in a resealable bag and keep refrigerated until needed. It is completely shelf stable but keeping it in the fridge helps to prolong the chili's freshness and lifespan.
In preparation to eat, first add two cups (CHECK) of water to the bag. This allows the mixture to start rehydrating and will save cooking time later. Wait at least 30 minutes and then pour the chili into pot and bring to a boil.
After boiling, cover and simmer for 10 minutes (CHECK). Keep an eye on the amount of liquid in the pot and add more if needed, to prevent the chili from burning. Chili is a very forgiving meal, in terms of cooking. It seems to get better the more you cook it!
For an extra filling meal, consider adding a handful of quick cook rice into the chili sin carne bag before rehydrating. This will cook in a similar timeframe as the chili.
An alternative option would be couscous. This is even easier and faster to cook, as you simply pour boiling water over the couscous and then cover for 5-10 minutes.
How to serve backcountry chili sin carne
One of my favourite things about chili is the many ways you can choose to serve it. It is filling and tasty enough by itself but if there's some extra space in your bag, consider one of these options:
Tortilla chips – crushed as a crispy topping or for dipping
Avocado – chopped or sliced and added as a topping
Cheese – grated and added as a garnish for gooeyness
Tortilla wraps – create burrito style chili wraps
Cornbread is, of course, the ultimate accompaniment to chili. It can be quite heavy to carry, however, so I'd consider that only for one night backpacking trips or portage-free paddling adventures.
If you like heat, consider adding chili flakes or powder just before serving to really set your mouth on fire!
Additional Time:
8 minutes
Total Time:
1 hour
23 minutes
This is a vegan take to the traditional Chili con carne. This recipe uses TVP and mushroom to get that meaty texture.
Ingredients
1/4 cup TVP
1/4 cup water
1 tsp vegetable stock
3 tbs soy sauce
1/2 tsp cumin
1/2 tsp coriander powder
1/2 tsp black pepper
1/2 tsp cayen
1 cup onion
3 garlic clove
1 tsp oil
1 1/2 cup mushroom (sliced)
1 can tomatoes (diced)
1/2 can tomato paste
1 1/2 cup red kidney bean (or any bean you like)
1 1/2 cup red pepper
1 tsp chili flake or fresh chili
1 bay leaf
1 tsp oregano
1 tsp Rose mary
Instructions
Prepare a strong stock by adding the stock and soy sauce to the water
Add the TVP to the stock and let soak for 15 minutes or till the most of the stock has been absorbed
In a large pot (about 2 liter capacity minimum) fry up the onions in oil until you see some caramelesation.
Add cumin,cayen, coriander, black pepper and cook for 1 minute
Add the TVP, red pepper and mushroom and cook for 4 minutes
Add the tomatoes, beans and the rest of the ingredients
Simmer for about 45 minutes to 1 hours or till chili had thickened to a thick rich texture.
Eat as is or dehydrate
Notes
Dehydrating this chili will take about 8 to 12 hours. It should have a leather to dry texture and should not feel or look wet. Store in a sealed container and keep for up to 2 weeks.
How to re-hydrate
In a pot, cover 1/4 cup of the dried chili with 1 cup of water and simmer for 8 to 10 minutes and adding water if needed.