Some people recoil in horror at the idea of buying food from the dollar store. But the truth of it is that dollar stores actually sell plenty of calorie-dense packaged food that is ideal for backpacking purposes. Many of the items are identical to those sold in regular grocery stores, often with a lower price tag.
Dollar stores are also pretty ubiquitous here in Canada. We've often arrived in small towns and found only a gas station and a dozen or so shops, with one being a dollar store.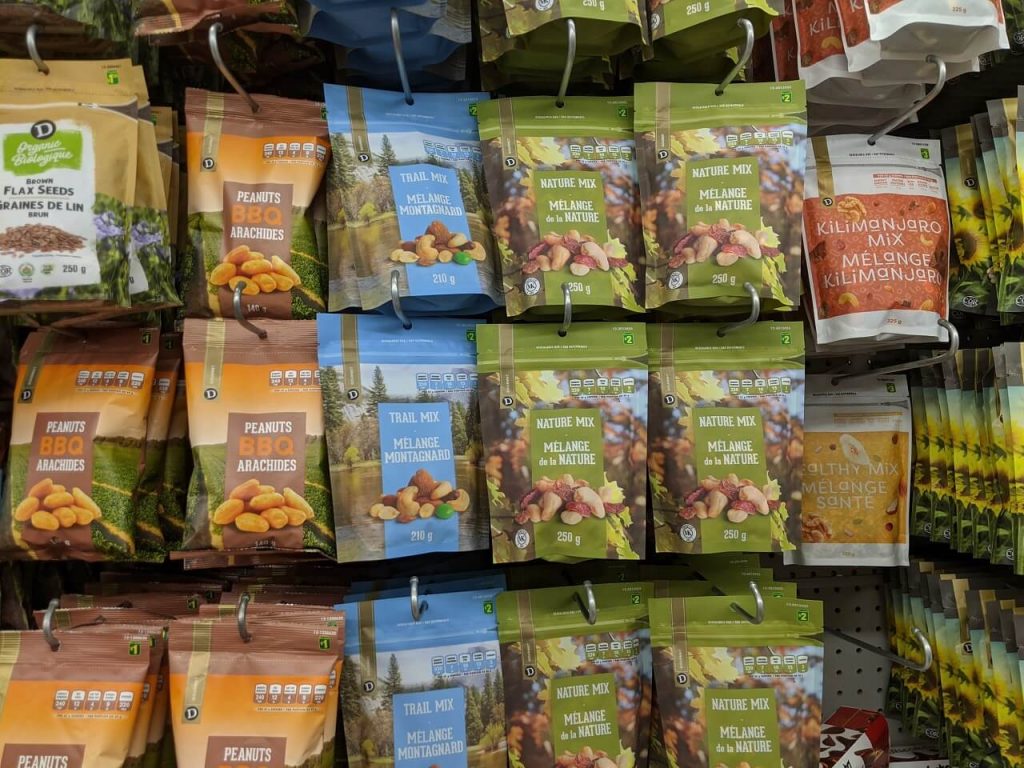 With small towns often being the gateway to some of our favourite wilderness areas, I started wondering whether it would be possible to create an entire backpacking food menu from a single dollar store. A last minute trip can make it difficult to source so much food in such little time.
And that was the inspiration for this post! I'll first highlight a few of the most common items found at dollar stores that are suitable for backpacking, before revealing the results from our own dollar store backpacking food experiment.
Please note that dollar store backpacking food is not always the best value for money. Some food manufactures make smaller pack sizes specifically for dollar stores. This is not always a bad thing, however, since we specifically look for smaller packaged items.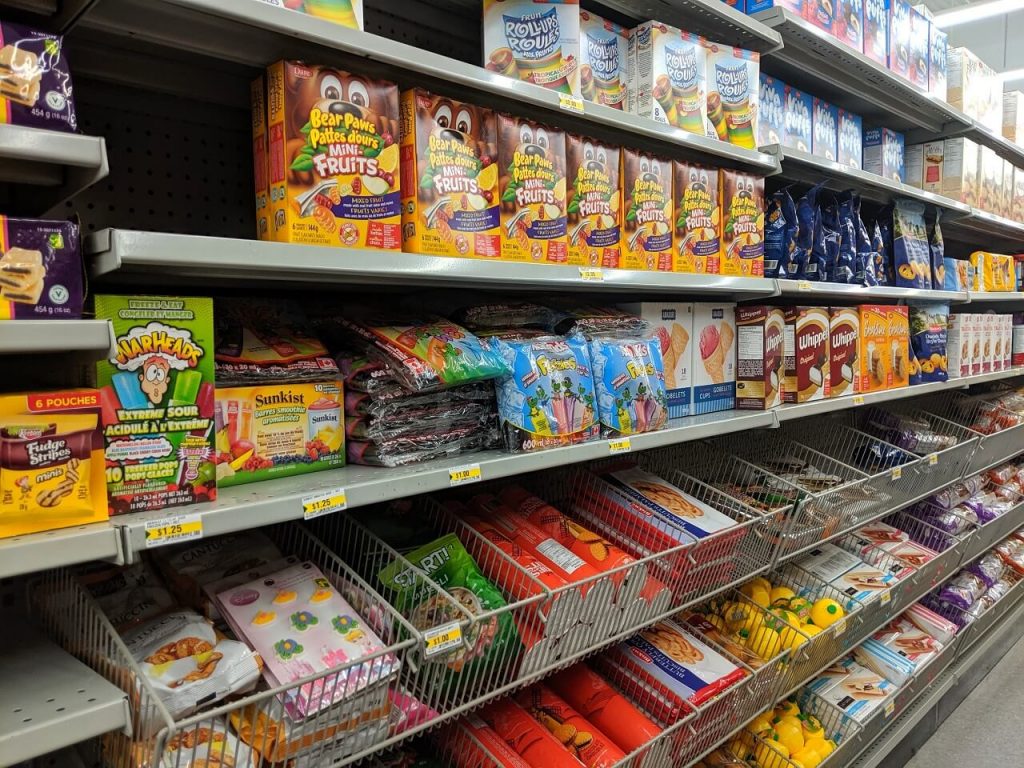 Dollar store backpacking food ideas
While I do think that dollar stores are an underrated source for backpacking food, I need to start with a disclaimer.
Not all dollar stores are created equally. Even in a 'good' one, the stock rotates with enough frequency that you never know what you may find inside. We visit our local dollar stores once a month or so and I would estimate that 30% of the food inventory changes each time.
There are, however, some core food items that are usually available in most dollar stores that can be used for backpacking trips. Examples are:
Nuts and seeds
Dried fruit (raisins, mango)
Granola bars
Wasabi peas
Sesame 'crisps'
Cookies
Chips
Chocolate bars
Candies
Fruit roll-ups
Granola
Oatmeal
Dried noodles
Dried pasta
Add water pasta dishes (e.g. Knorr Sidekicks)
Add water rice dishes (e.g. Ben's Original)
Instant mashed potato
Tuna/salmon pouches and tins
Dried soup
Peanut butter
Honey
Crackers
Hot sauce and seasonings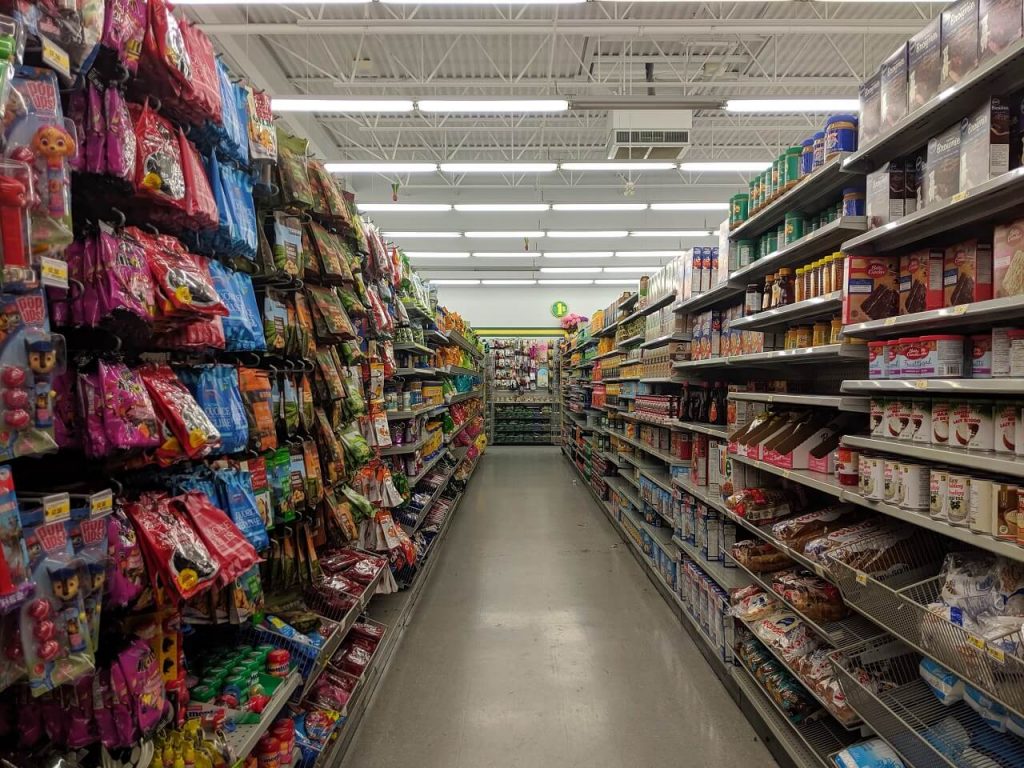 We've found these items to be consistently offered at our local Dollarama and Dollar Tree stores here in British Columbia. The nut selection in Dollarama, in particular, is usually very good, with packages of raw nuts as well as mixed/flavoured varieties.
The larger dollar stores often have a range of breads, with tortilla wraps being the most useful for backpacking trip purposes.
As mentioned, dollar store inventory can change often. Some of the more unusual items we've found in our local dollar stores include:
Freeze dried apple slices
Dried coconut
Plantain chips
Chia seeds
Freeze dried coffee
Water chestnut pouches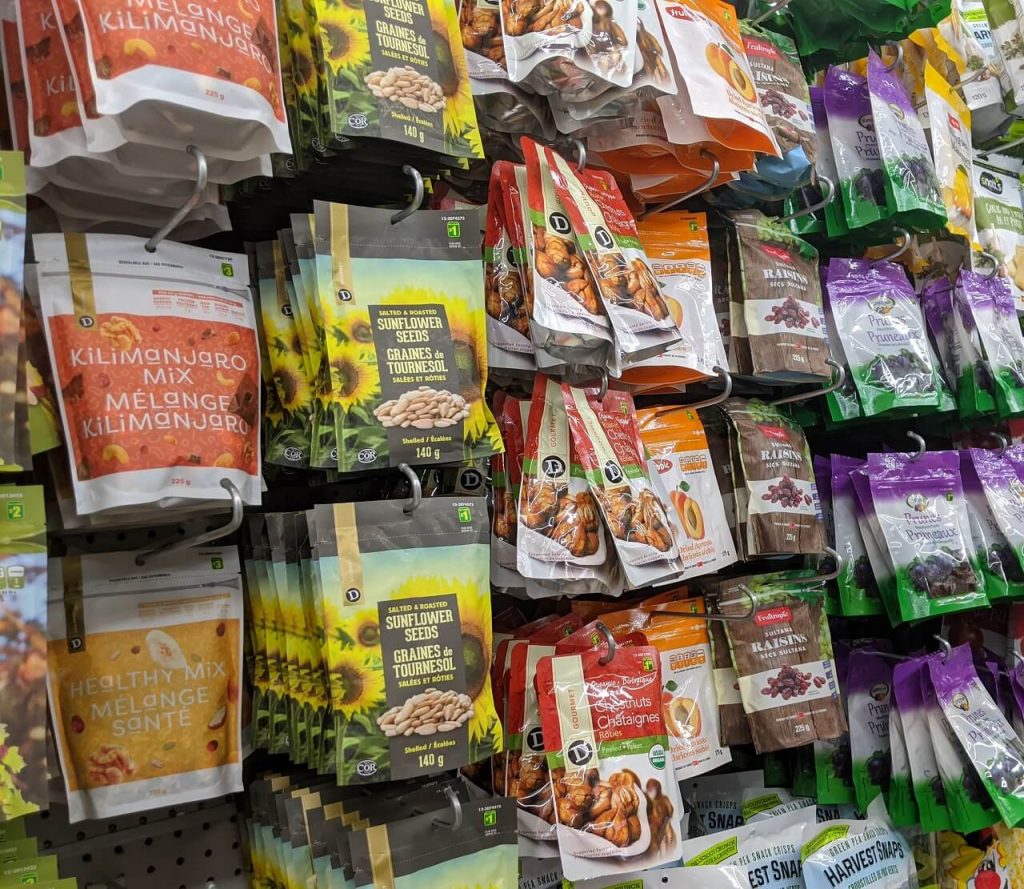 Testing a dollar store backpacking menu
To work out if backpacking on a dollar store menu was feasible, we decided to try it out while hiking the Sunshine Coast Trail in British Columbia.
Our plan was to hike 65km over five days, from Inland Lake to Lang Bay, via Confederation Lake (600m elevation), Tin Hat Mountain (1150m), Elk Lake (820m) and Walt Hill (1000m).
Our chosen dollar store was Dollarama in Powell River, close to the start of our hike. Dollarama is our preferred dollar store chain in general as we find the food selection to be consistently good. Our five day food supply (with some extra) was around $50.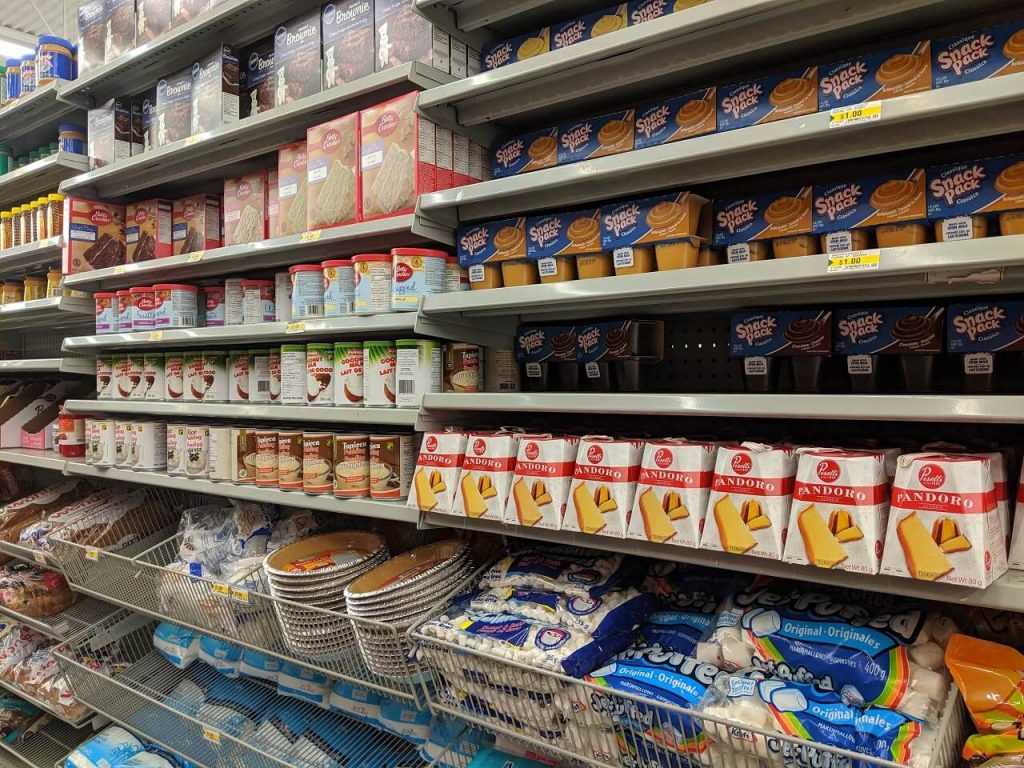 Menu contents
Our dollar store backpacking menu looked like this:
Breakfast: Tortilla wrap with peanut butter and chia seeds
Lunch: Granola bars, chips, dried mango, cookies, sesame 'crisps,' vegetable soup
Dinner: Mac and cheese/Mexican rice with haricot beans/ramen
Snacks: Eat More bars, chocolate bars, nuts, raisins, gummy worms, Werther's Original candies
JR also purchased two tins of tuna to add to his dinner portions. We don't usually use tins for backpacking. Dollarama sometimes offer tuna in pouches but there were none available.
To put this menu into perspective, a typical backpacking trip menu for us is granola with powdered milk for breakfast, a peanut butter wrap for lunch (with assorted sides) and homemade dehydrated dinners. The latter would be relatively similar to our dollar store finds, – centered around pasta, rice, noodles but with more vegetables.
Please note that we did not build this menu with extensive attention to detail regarding nutrition, besides choosing calorie dense foods.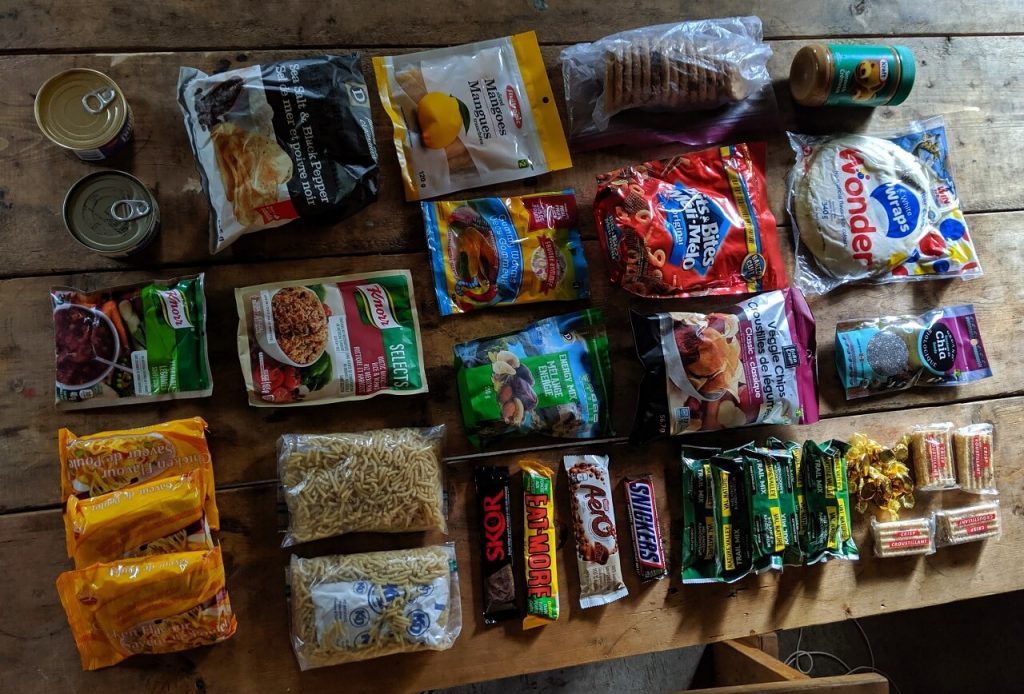 The results
Well, we did survive on this dollar store menu but I couldn't say we completely thrived while doing so. For taste purposes, it was fine – nothing extraordinary but also perfectly palatable. Most of the issues we had were nothing to do with the fact we bought food from the dollar store.
The biggest self inflicted problem we had was lack of calories. Our portions were definitely on the meagre side. We did conduct a rough calorie count of our selected menu in Dollarama, but I think it went over my head momentarily that this was going to be all of our food.
This issue was compounded when we decided to stay an additional day on the trail half way through, making our trip six days long rather than five. We did have extra food so this wasn't a risky choice but it made our lean portions that much leaner.
Besides these problems, I was actually relatively happy with our dollar store backpacking menu. I would have liked the option of granola for one or two breakfasts, but Dollarama didn't have any powdered milk and I don't really like it with water alone.
The best discovery we made was mixing peanut butter* with chia seeds. We both really liked the different texture and it helped add much needed calories to our menu. The second best thing was the Mexican rice and haricot bean dish, made by Knorr. Not only was it surprisingly tasty but it rehydrated and cooked well. I keep looking out for it in our local dollar stores!
*The one item I was not a big fan of was the peanut butter. We usually buy peanut butter made from peanuts only but this one contained icing sugar, which is normal for dollar store offerings.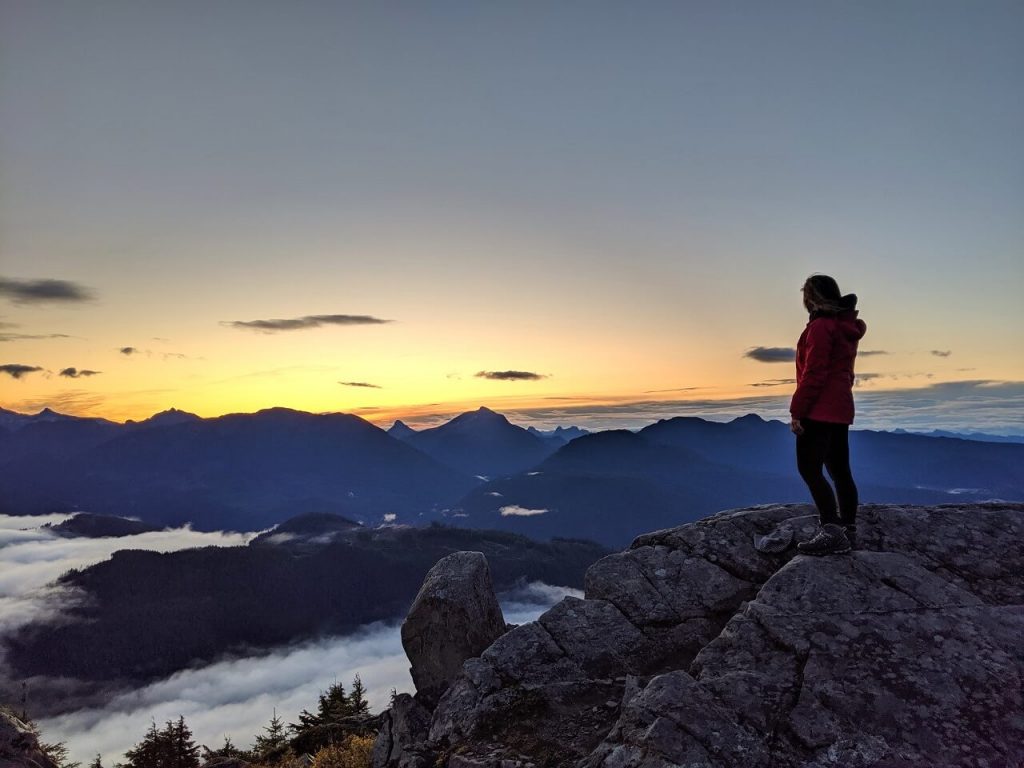 Would we do it again?
We had already purchased some backpacking food items from the dollar store before but this trip opened our eyes even more.
While I wouldn't buy food for a backpacking trip exclusively from the dollar store again, this experience proved that it is possible for short adventures into the backcountry. We continue to check our local dollar stores for backpacking food to supplement the rest of our menu.
For upcoming backpacking trips, we will be using the following items from our local Dollarama:
Sesame 'crisps'
Individually packaged crackers
Freeze dried apples, added to our homemade granola
Chia seeds
Coconut chips
Vegetable chips
Related posts