Ideal to eat as a snack or add to an oat based breakfast, these Mixed Nut Granola Bites are as versatile as they are hearty. The ingredients are simple, wholesome and full of energy to help you get through a long hiking or paddling day.
Including less than ten common store cupboard ingredients, these granola bites are easy and quick to make in advance of any outdoor adventure. The use of a food processor is recommended but not required.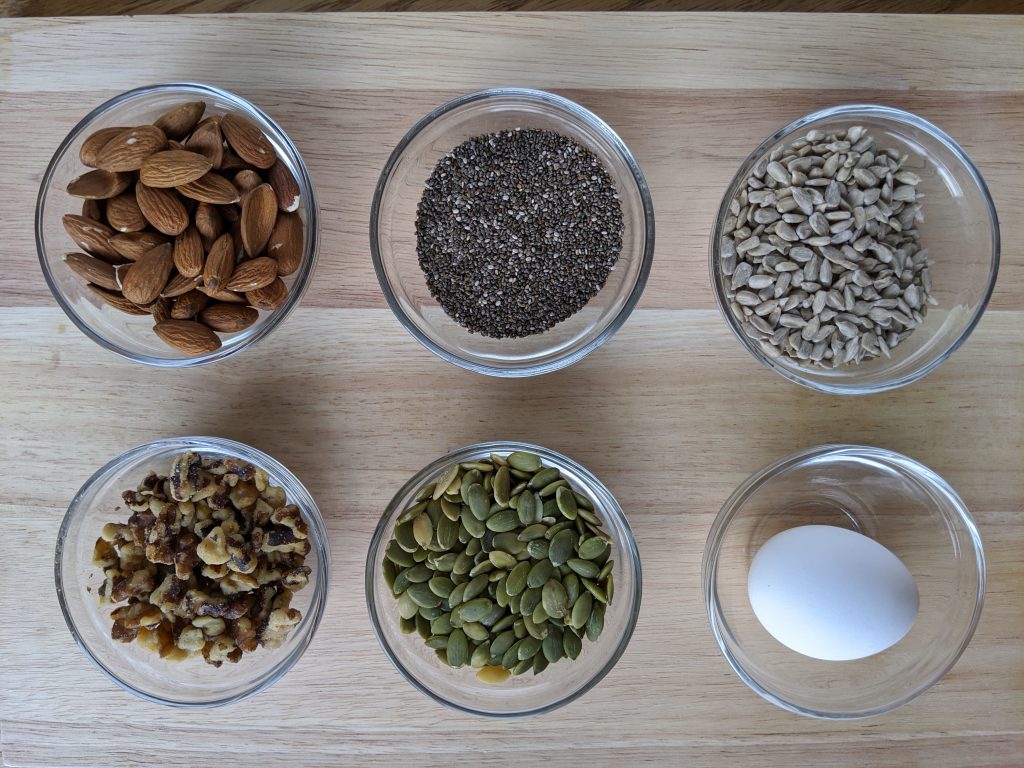 Keto?
Why keto you may ask? I've experimented with the keto (low carbohydrates, high fat) diet a few times over the last few years. These granola bites are as keto as it comes, with a high fat content (from the nuts) with very low carb count.
The perfect savoury snack, it is easily possible to add sweetness to these granola bites with dried fruit or any of your favourite trail mix elements.
Here are some ideas for dehydrated fruit you could add –
Blueberries
Mango
Strawberries
Raisins
Cranberries
Apricots
Dates
Apples
Bananas
Pineapple
For a sweeter granola style mixture, check out my Wholesome Maple Nut Breakfast Granola recipe.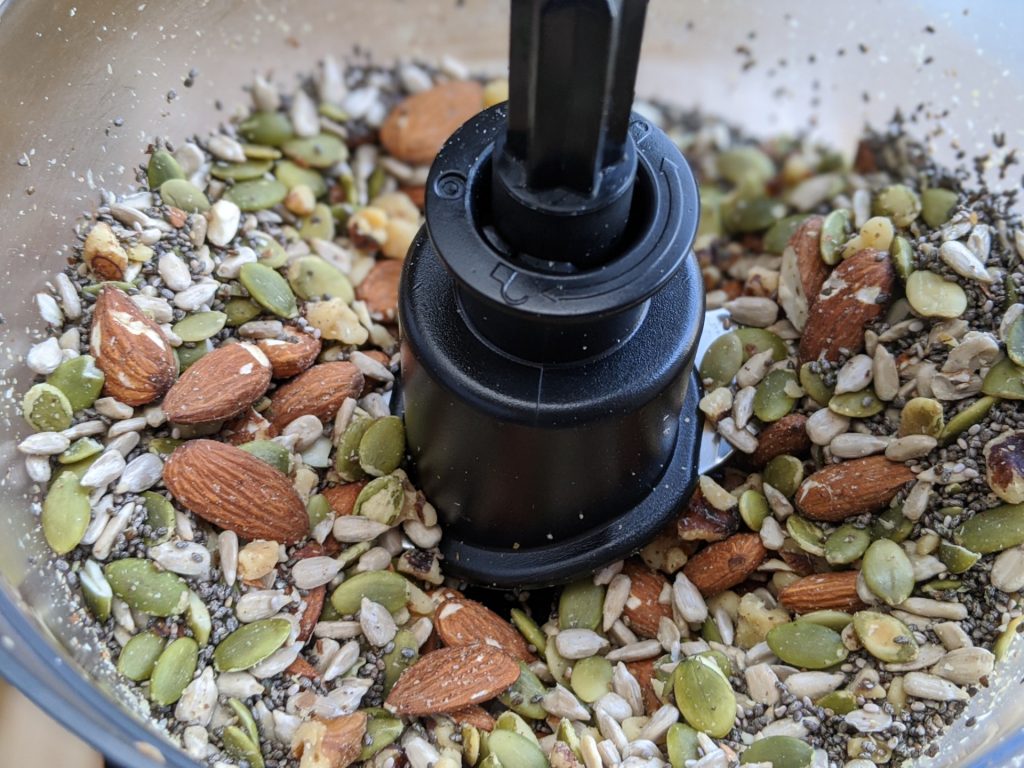 Inexpensive and tasty granola bites
The recipe for these granola bites uses a basic blend of nuts that is easy to source and also price conscious.
Sunflower seeds, for example, are incredibly inexpensive but provide a tasty and nutritious (rich in vitamin E) foundation for the rest of the mixture. Pumpkin seeds are usually also relatively low cost and are a source of omega-3, iron and calcium.
While they may be considered a superfood, chia seeds can be surprisingly cheap to source. I've regularly found 250g packages in the dollar store.
Walnuts and almonds are the most expensive ingredients, but it would be possible to swap these out with peanuts if needed.
When purchasing nuts, be sure to go for the unsalted variety. Ideally, they wouldn't have been roasted either. The raw kind is usually cheaper and the taste is less pungent.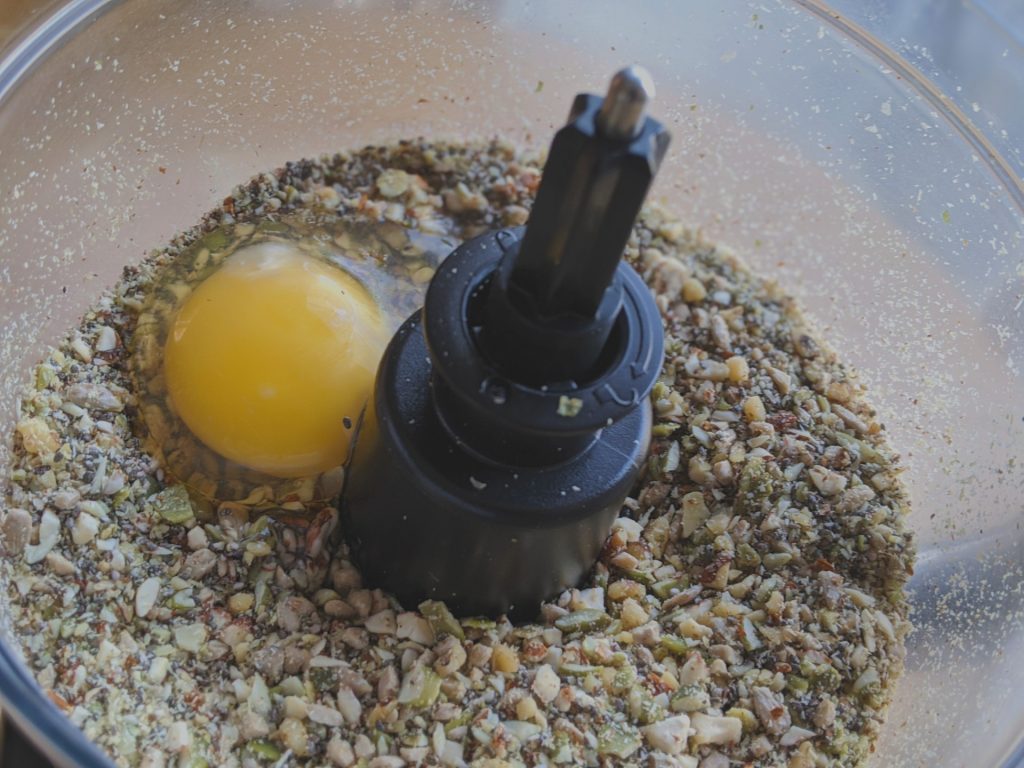 Making the granola bites mixture
For the best results, put the whole/bigger nuts in a food processor to ensure that all pieces are roughly of the same size. Using a knife is fine too but will be more time consuming and the pieces will be less uniform.
Some people may be surprised that I have used the whole egg in this recipe. Many granola recipes only call for the egg white, for example. Personally, I like to avoid waste and using the whole egg is a source of additional protein.
Cooking the granola bites
Depending on what you want to do with the final product, you can spread the mixture thinner for granola or thicker for bites and bars.
With 1cm thickness, the granola bites take around 30 minutes to set and cook. For a thinner mixture, the cooking time would be shorter (and, of course, vice versa for thicker).
You'll know when the granola bites are 'done' when the edges start to brown. The mixture should also be quite hard.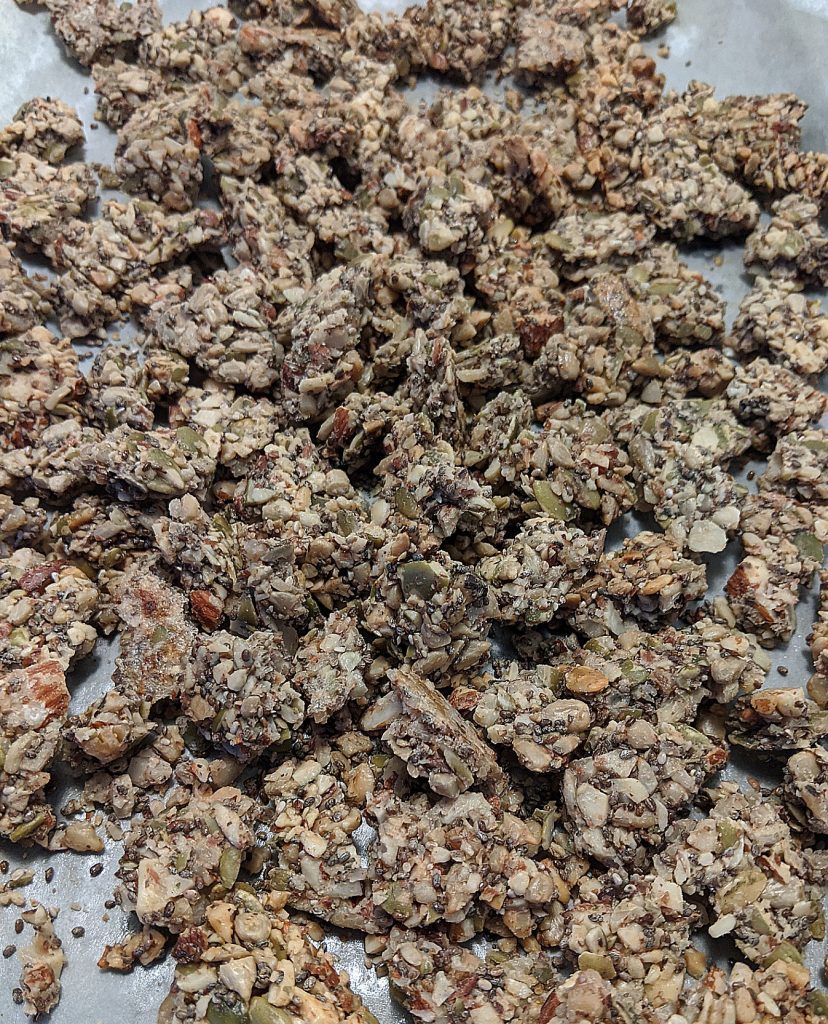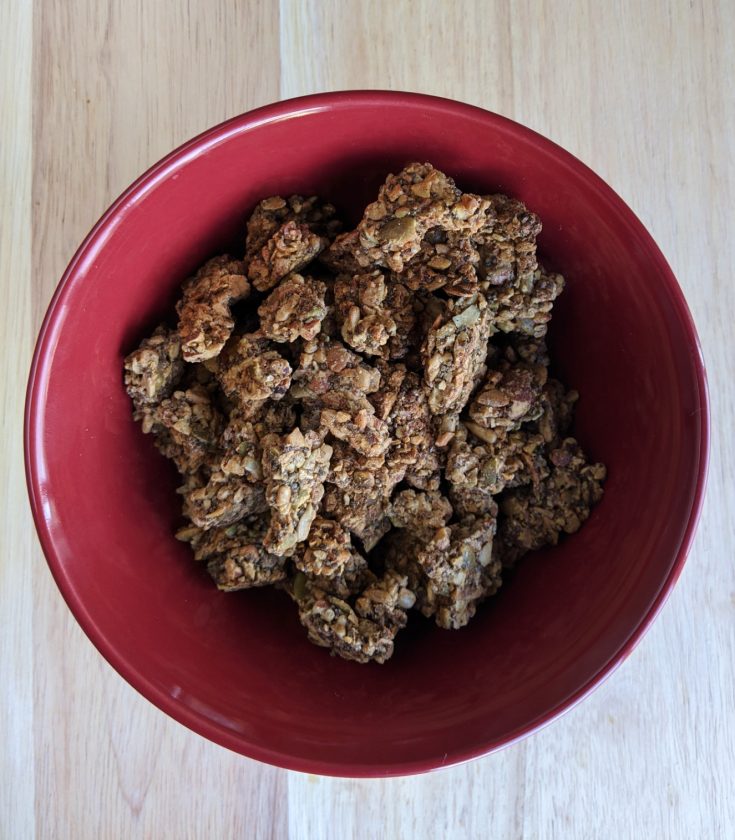 Yield:

1.5 cups
Keto Mixed Nut Granola Bites
Total Time:
1 hour
5 minutes
Ingredients
1 large egg
1/2 cup almond
1/4 cup sunflower seeds
1/4 cup pumpkin seeds
1/4 cup chia seeds
1/4 cup walnut
1/4 tsp salt
1 tsp ground cinnamon
1/4 tsp ground nutmeg
Instructions
Put all whole nuts in food processor and process until small (about 3 to 4 millimeters)
Add the rest of the nuts and egg
Blend for 5 seconds or till egg is well incorporated
Spread on a parchment paper covered baking sheet, with a thickness of around 1cm
Bake for 30 minutes at 300F (150c), until edges brown
Let cool and break to desired size before storing
Granola bites storage for the trail
After leaving to cool, you can then break down the nut mixture to whichever size you prefer.
I prefer to store larger pieces for versatility reasons. We are then able to start a backpacking trip with a Ziploc of granola bites for use as snacks. During the last few days, we then may add the remains to our granola.
Stored in a Ziploc or glass jar, these granola bites will keep their crunchiness for about a week.