Granola is one of our 'go-to' breakfasts on backpacking trips. There are a couple of reasons for this, with the two biggest being:
We prefer to get up and go rather than hang around in camp
Second, neither of us like cooking and washing up in the morning
Having granola for breakfast solves both issues, especially when we eat from the same bag we transported it in.
If either of the above scenarios are familiar, you're probably going to love this recipe! If you're just looking for an easy, nutritious and tasty breakfast granola recipe, you'll be all set too.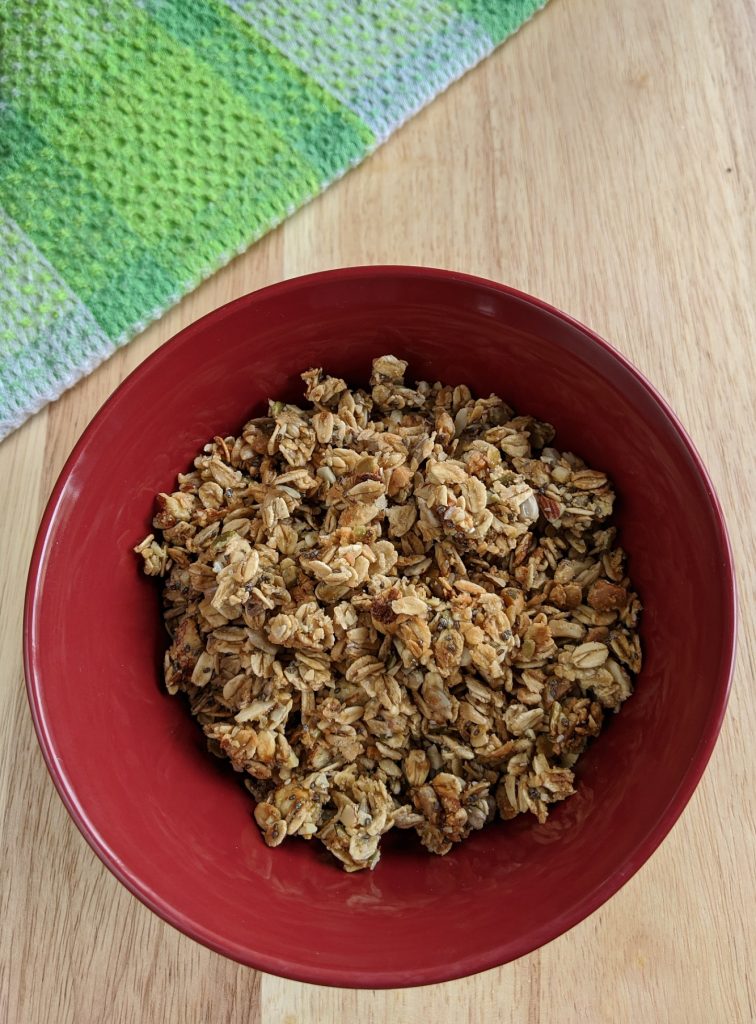 I don't know about you, but I often find store bought granola to be expensive and uninspiring. Making your own is satisfying in many ways, particularly as you know exactly what goes into it.
I also like that you can tailor it to your own tastes. This recipe, for example, includes chia seeds, one of my favourite 'superfoods.' Rich in fiber, protein, polyunsaturated fat, calcium and zinc, I also love the crunchiness they offer.
Crunchy, wholesome and flavourful, this granola recipe is also quick and straightforward to make. The most time consuming part involving gathering and chopping the whole nuts at the beginning. Cooking time is just 15 minutes.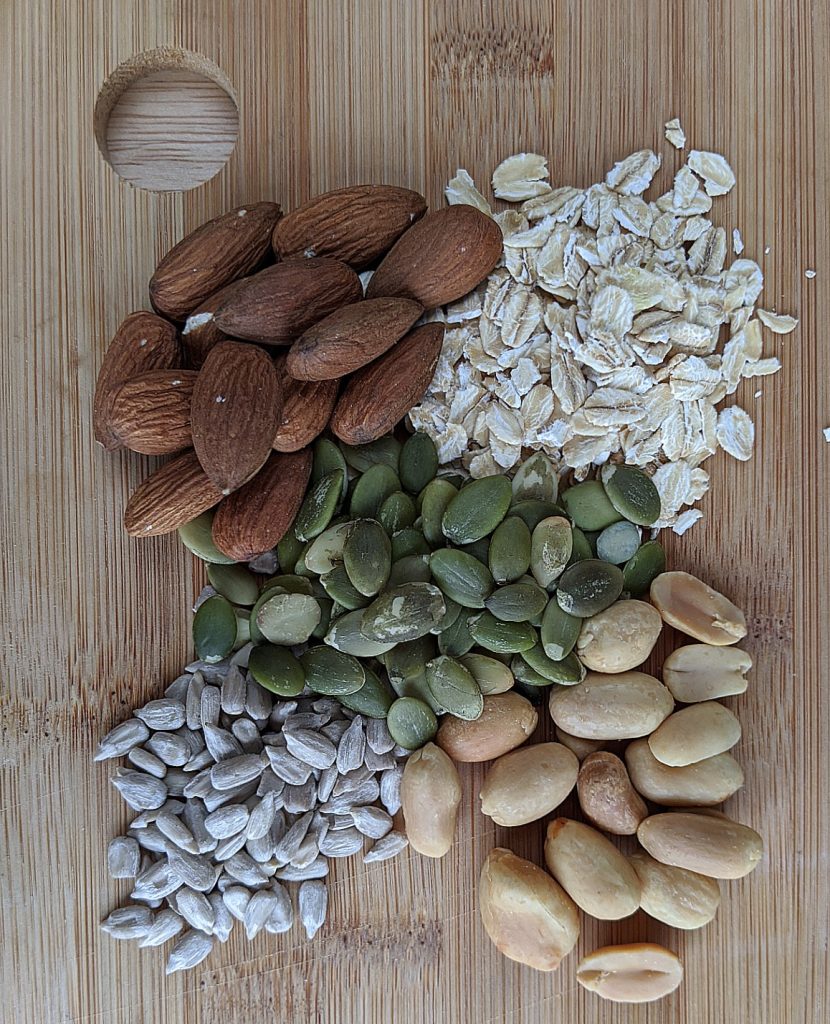 Whole nuts and seeds
One of the best aspects about this Maple Nut Breakfast Granola recipe is being able to adapt the mixture of nuts and seeds.
This is great not only for the taste aspect but also for economical reasons. After all, nuts and seeds do vary considerably in price.
Some variations (pine nuts, I'm looking at you) are five or even six times more expensive per 100g than other types. I've chosen to include both peanuts and sunflower seeds to keep costs down.
Chia seeds, once exclusively sold health food stores, can be found at some dollar stores. Maple syrup is one of the most expensive ingredients here, but regular syrup should also work.
Creating the Maple Nut Breakfast Granola mixture
Chopping the nuts and seeds is a key part of this recipe. I wouldn't recommend using a food processor or blender for chopping since the pieces will likely be result in being too small. Instead, pick a large knife and chop the nuts by hand.
Sizing is important to create the best granola consistency. You're looking for the nut size to match the large flake oats used in the recipe. I find that this size is just ideal for granola.
Just think about the three bears and their porridge – not too big but also not too small! It needs to be just right.
I often find that store bought granola is unnecessarily sweet. For that reason, I haven't gone over the top with sweetness, using a small amount of brown sugar as well as maple syrup. The latter acts as a binder, helping to keep the granola clusters together.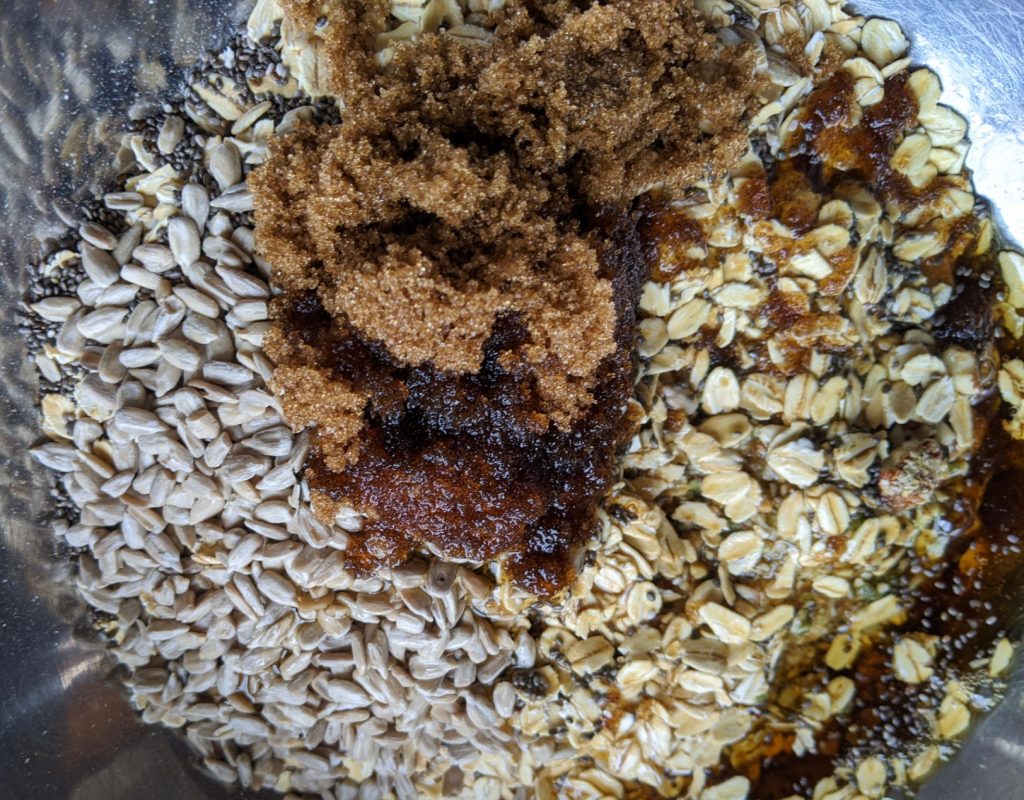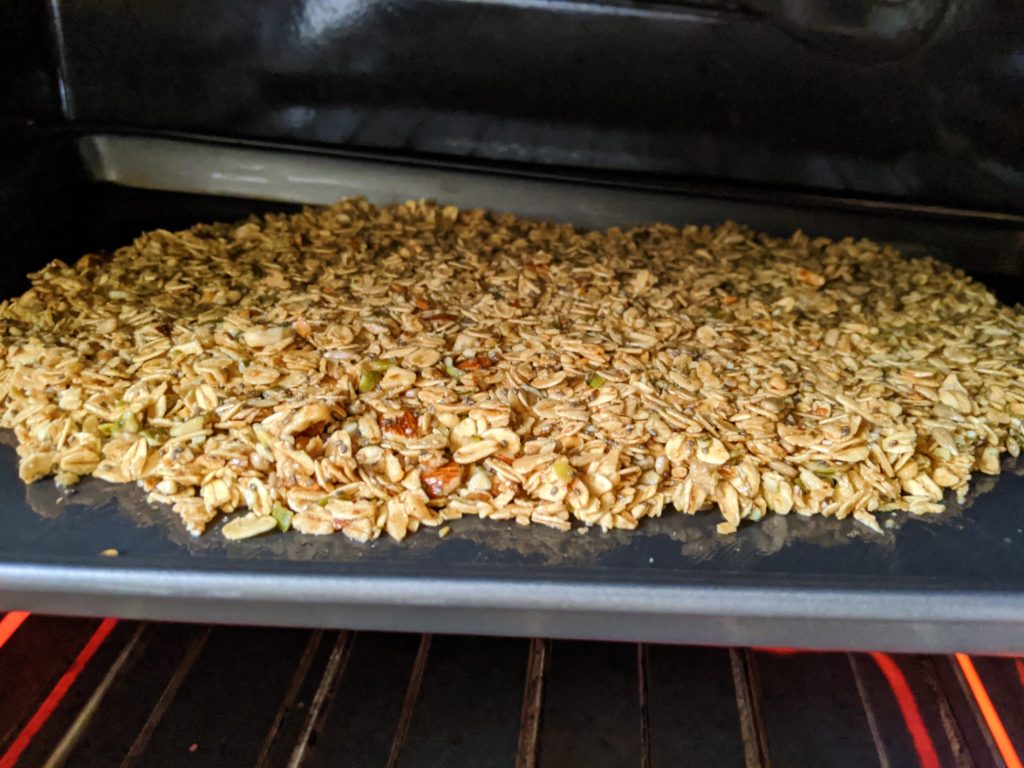 Cooking the Maple Nut Breakfast Granola
Granola is one of those things that can burn quite quickly. The thinner the granola mixture is on the baking tray, the quicker it will cook.
After putting the tray in the oven, be sure to check regularly after about ten minutes. When the edges start to turn brown, it's ready. Go ahead and take it out!
Let the tray cool down completely before touching or breaking down the granola. This helps the granola clusters stay together.
If you're looking for a granola style snack bar, check out my Keto Mixed Nut Granola Bites recipe.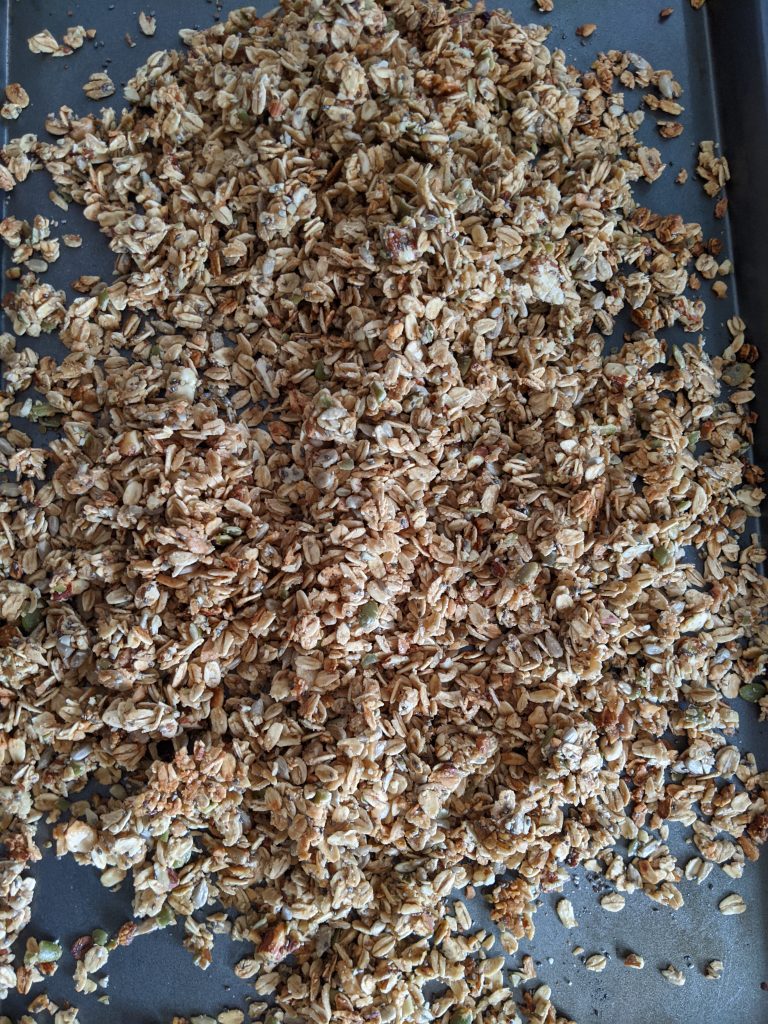 Backpacking Breakfast Granola: Storage and use
Stored in a dry, cool environment, this granola will last two weeks or more. Keep in mind that it will lose some of its crispy textures over time. Ideally, you'd eat the granola within a week of making it.
For use on backpacking trips, I scoop one and a half cups per person into a Ziploc bag. I then add two tablespoons per person of milk or coconut milk powder. If I have some, I'll also often add dehydrated fruit like blueberries, strawberries or raisins.
Before eating, I re-hydrate the milk according to directions and then often eat the granola straight from the bag. Alternatively, if you have less aversion to washing up, you could use a bowl as pictured below!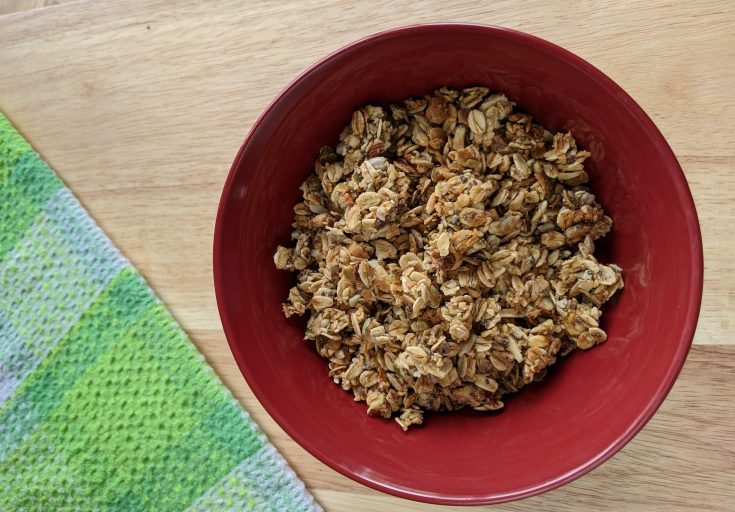 Wholesome Maple Nut Breakfast Granola
Ingredients
1/2 cup maple syrup
1/4 cup peanuts
1/4 cup almonds
1/4 cup sunflower seeds
1/4 cup pumpkin seeds
1/4 cup chia seeds
2 cups large flake oats
1/4 cup brown sugar
1 teaspoon of vanilla extract
2 pinches of salt
Instructions
First, chop all of the whole nuts until they are roughly the size of large oat flakes
Add all ingredients together and mix well
Lay the granola to about 1 cm thick on a greased up baking tray or parchment paper
Bake at 300f (150c) for about 10 to 15 minutes
Let cool down completely before breaking the granola down
Notes
If you are looking for large granola clusters, make sure you do not touch the granola until it is fully set.