Hearty and comforting, pasta is definitely one of our staples for backcountry dinners. Besides being both cheap and easy to cook, I also love the seemingly endless dish variations. One we keep coming back to, however, is a rich pasta bolognese.
This Italian classic is tangy, filling and a real crowd pleaser. It's also very easy to dehydrate, which makes it a perfect backcountry dinner! A bowl of hot pasta bolognese topped with cheese is the most wonderful treat after a full day of hiking or paddling.
Despite the robust, layered flavours, bolognese is surprisingly easy to make. It doesn't take a lot of time either, and uses many store cupboard staples. Read on to discover my tasty dehydrated veggie backcountry bolognese!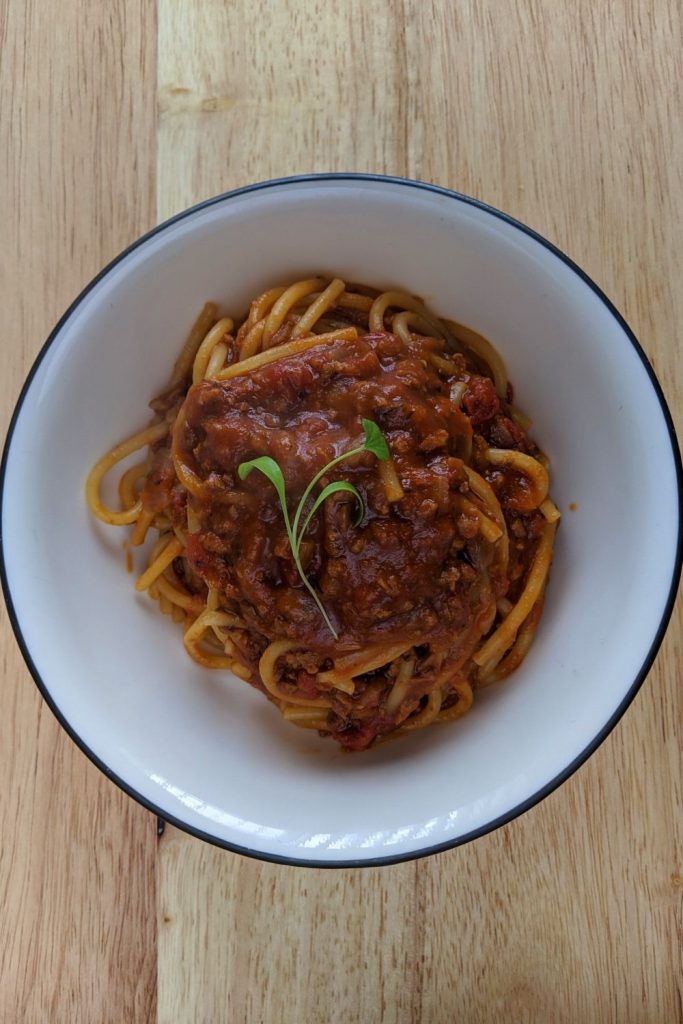 What is pasta bolognese?
Traditionally, bolognese is an Italian meat sauce made with ground beef, tomatoes, onions and fresh herbs. It's served with pasta, typically tagliatelle or spaghetti.
My version of bolognese replaces ground beef with textured vegetable protein (TVP). This makes the dish vegetarian* and also a lot cheaper to make. It's still possible to use ground beef if you like, but make sure you use the extra lean kind (see end of recipe for more details).
*Please note – I have used Worcestershire style sauce in this recipe. The iconic Lea and Perrins version DOES contain anchovies. There are alternatives that do not but these are difficult to find. If you cannot, simply omit.
Textured Vegetable Protein (TVP)
In this recipe, Textured Vegetable Protein helps deliver all of the rich, meaty flavours you'd expect to find in a bolognese sauce. But it may need some explanation for readers who are less familiar with it.
TVP is a soy product, actually a by product of soybean oil extraction. It's usually sold in dehydrated flake form and found in the 'natural foods' or bulk section of grocery stores.
Highly nutritious, TVP is good source of protein, iron and fiber. On it's own, TVP is pretty tasteless. But it takes on the taste of whatever you add to it. So in this case, the TVP soaks up the deep flavours of the bolognese sauce.
The texture of TVP is very close to ground beef, so can also be used for burgers, meatballs and other classic ground meat recipes.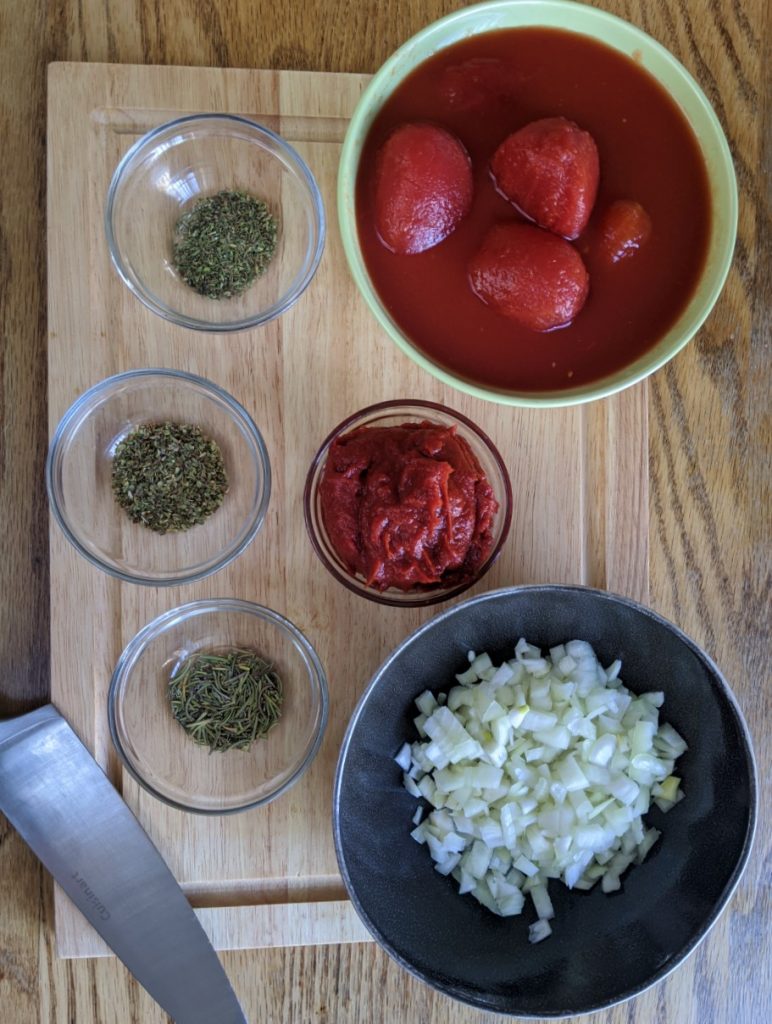 How to make dehydrated veggie bolognese
This pasta bolognese is essentially made in two different steps.
The first stage involves rehydrating the Textured Vegetable Protein. This involves letting it soak in a vegetable broth, soy sauce and Worcestershire style sauce mixture for 10 to 15 minutes.
While waiting, you can use the time to measure the spices, dice the onion and open up the can of plum tomatoes.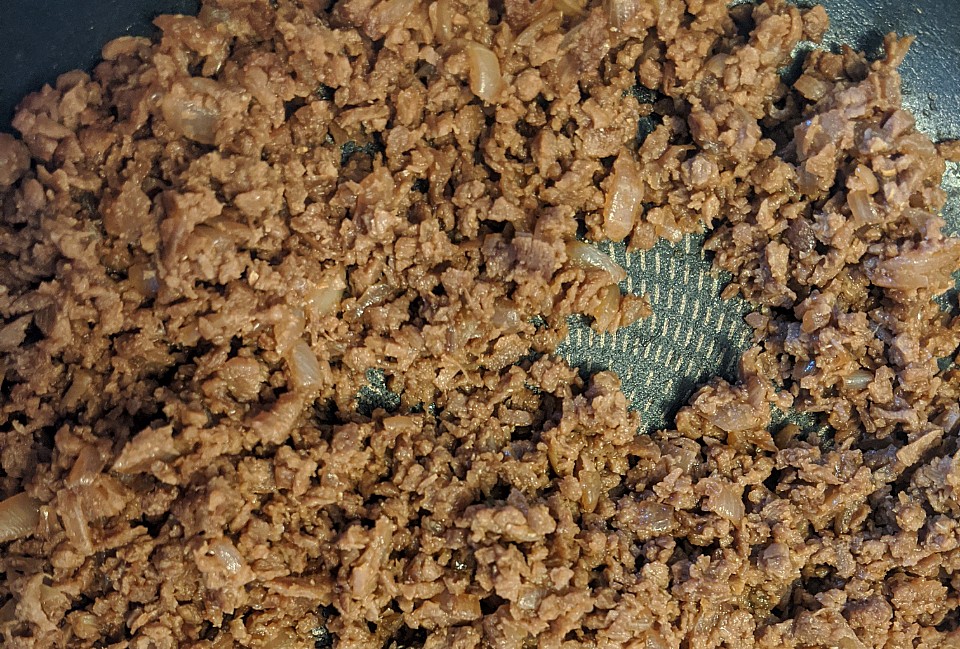 Creating the bolognese sauce
Start by frying the chopped onion at medium heat in a pot large enough to cook all of the ingredients. A 2 litre pot is ideal.
Make sure the onions have gained a little colour before adding the spices. Cook these off for a couple of minutes to release all the flavours.
By now, the TVP should have absorbed most of the liquids and is now ready to be added to the main pot. TVP does not technically need to be cooked but this step adds more taste.
At this point, the rest of the ingredients can be added with the exception of the salt and brown sugar. If you are using whole tomatoes, you can either dice them prior or simply squish (yep, an official culinary term) them in the pot while they are cooking.
Add your herbs and then simmer until all the ingredients are mixed together properly. This takes about 30 to 45 minutes. When the cooking is nearly done, it is time to season the sauce with salt and brown sugar.
Tomatoes vary with flavour from can to can, with some being more acidic than others. Sugar helps to balance this acidity if needed. Taste the sauce before making any additions.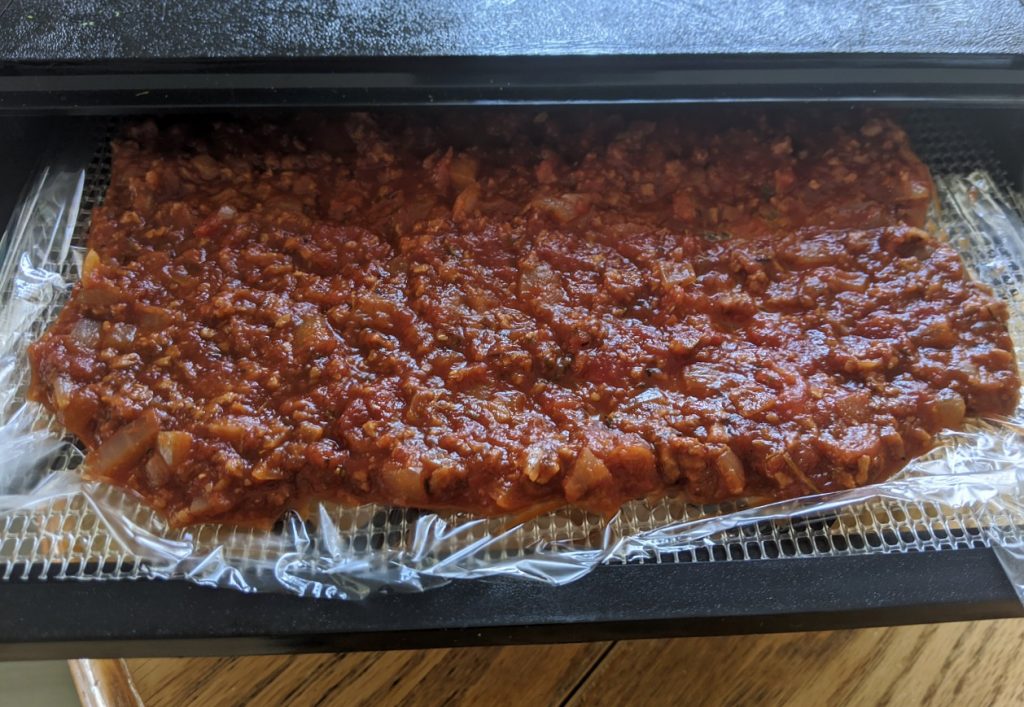 Dehydrating the bolognese sauce
To dehydrate, spread the bolognese on a dehydrator sheet or parchment paper covered oven tray. The thickness should be around 0.5cm or less. Dehydrate at 145F/62C for 10-12 hours or until the sauce is dry and crumbly. Store in a resealable plastic bag for up to a month.
To rehydrate, add 1/4 cup of dried sauce, 60g of pasta and 1.5 cups of water to a pot and simmer. These measurements are for one serving, so you'll need to adjust for multiple people.
At 300m above sea level, the sauce was fully cooked and the pasta al-dente (with a bite) after 12 minutes. The cooking time increases with elevation.
To speed the process, you can hydrate the sauce and pasta in the water for 30 minutes (or more) prior to cooking.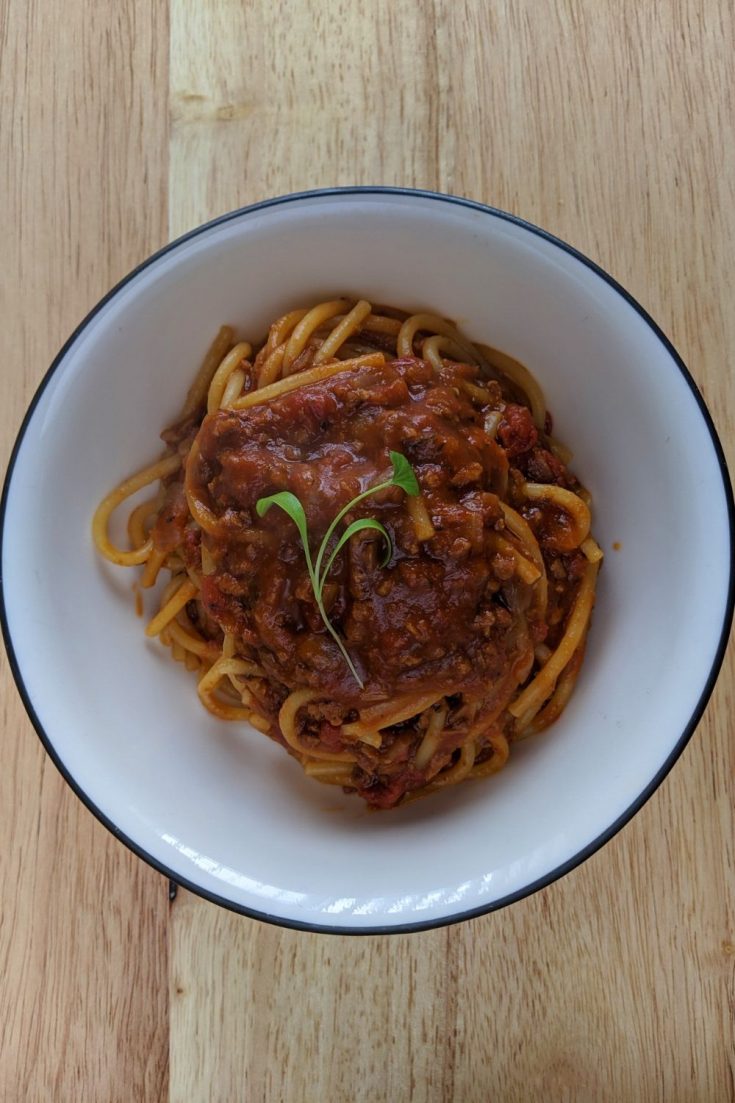 Yield:

6 portion
Dehydrated Veggie Backcountry Bolognese
Additional Time:
15 minutes
Total Time:
1 hour
10 minutes
Ingredients
1 can plum tomatoes (28oz/796ml)
1 small can tomato paste (5.2oz/156ml)
1 tsp oregano
1 tsp thyme
1 tsp rosemary
1/2 cup textured vegetable protein (or 1/2 lbs lean ground beef)
2 tsp soy sauce
1 tbs Worcestershire style sauce
1 cube or 1 tsp vegetable broth
1 tsp cumin
1 tsp coriander powder
1 cup diced onion
1 tsp black pepper
1/2 tsp cayenne pepper
Salt (to taste)
2 tsp oil
brown sugar (if needed, see note)
Instructions
Prepare the vegetable broth
Add the soy sauce and Worcestershire style sauce
Pour liquid mixture onto TVP and let sit for 15 minutes
Dice the onion and fry on a medium heat
Wait for colour and then add spices and cook for a couple of minutes
Add TVP mixture and cook until most of the moisture is gone
Add tomatoes and tomato paste to pan
Add remaining herbs
Simmer for 45 minutes, with lid on
Stir every 5-10 minutes
Season to taste (see notes)
Dehydrate and re-hydrate as needed (see notes)
Notes
Depending on the type of tomatoes, you may find the bolognese to taste too acidic. Adding some brown sugar near the end of the cooking time will balance the taste of your sauce. Only add 1 tsp at a time and taste after each addition as it is easy to add too much sweetness.
To dehydrate, spread the bolognese on a dehydrator sheet or parchment paper covered oven tray. The thickness should be around 0.75cm or less. Dehydrate at 145F/62C for 10-12 hours or until the sauce is dry and crumbly.
To rehydrate, add 1/4 cup of dried sauce, 60g of pasta and 1.5 cups of water to a pot and simmer.